One of my 40 x 40 goals is to see 40 states and tell the stories of my trips there. I don't know precisely how many states I've been to, but I'd hazard a guess that it's in the mid-30s. Most of them were visited during my amazing cross-country roadtrip with Ben during the summer that we were engaged, 2003. Fortunately, we kept a journal for posterity. So for the first time ever, I'll be sharing the stories here.
Day 7--Saturday, June 14
We had spent the previous 6 days in Peoria, IL, for a friend's wedding and then volunteering at Camp Tecumseh in Brookston, IN--where we later lived. Here's a picture of us with the Jeep departing from Camp T.
We left camp in the wee hours of the morning and drove through Wisconsin. I'll pick up the story as we enter Minnesota....
Minnesota was also gorgeous, and we made it to our campsite at the Afton State Park without getting lost. The biggest problem of our drive occurred after we crossed the Minnesota state line and I managed to ram myself into the tire
(we had removed all except the driver's seat for maximum space... this was probably SO illegal)
and stab myself in the butt with a pen while attempting to read
Let's Go
, check our itinerary, take a picture, and hang up the phone, all at the very same time. Other than that, we passed the time by reading, learning Spanish from our cds
(I'd like to point out that I haven't retained a single word of this
), and reading the Bible together. Lunch was bread, cheese, and salami, purchased at a tiny grocery store in an equally tiny town in Wisconsin. Yay for fresh Wisconsin cheese!
The guy who checked us into the state park was pretty clueless, but we drove to the parking lot gathered our sleeping bags, pillows, and tent, and set of on our mile-long sojourn to our "backcountry" campsite. We had to go down dozens of steps, then up and up and up what I feel can only be described as a mountain, although others have claimed that it's really just a big hill. When we were about a fourth of the way up the hill, some middle-aged men using skill poles to navigate their way down the hill informed us that we were "almost there." Ben and I had a few out-of-breath laughs at this as we struggled upwards for what seemed like an eternity afterwards! Our half-hour climb was worth it, though, when we saw the gorgeous view from isolated Campsite 15.
We set up our tent, and then we returned down the hill at an unavoidable breakneck pace. We then navigated the streets of St. Paul and eventually arrived at the mecca known as the Mall of America. Our Noordyk parking luck (Ben says I have it too, because I'm park of the family now) scored us a parking spot right up front, and we were entering Snoopy Land as Ben's 6:30 alarm went off.
(Ben took a picture at 6:30 pm during every day of this trip.)
We wandered through the mall, being amazed by the sheer number of stores. We split a buffalo chicken sandwich for our pre-dinner and picked up some items, such as a water bottle and a can opener, which we had neglected to buy at home. We spent $20 on kiddie rides (the shoot-em-up ghost ride, hot air balloons, and the ferris wheel) in Snoopy Land and then had one heck of a time finding a kid to give our spare tickets to. Ben eventually handed them off to the mother of a crying child and we were on our way back to the campground, having covered the Mall of America in about two hours--apparently to you can do that when you're not actually interested in spending money!
We picked up pizza sauce and pie filling at a Rainbow grocery store. It was 10:00 and already dark by the time we returned to the campground, and our hike up those hills in the dark while carrying the food and the pot pie makers was less than fun. I was completely out of breath by the time we got to the top, and I was frustrated because I felt like such a weakling. The full moon hanging over the hills was beautiful though, and soon Ben's frustration replaced my own as our stubborn fire smoked and kept going out. All told, it was after midnight by the time we had managed to cook (and burn) some pizza pot pies for dinner and cherry pot pies for dessert. Given the complete lack of both running water and bathrooms, we both had to pee in the underbrush and brush our teeth as best we could, spitting into the fire. Finally, bed, our first night in the tent!
Day 8--Sunday, June 15
I awoke a little before 7:00. Sunlight was pouring into our tent, and I found it impossible to sleep any longer. I heaved a deep breath and resigned myself to the fact that I would be waking up early all summer.
Ben woke up easily, but it proved a very challenging task to get him up and moving. Eventually, I had to climb over him to get out of the tent and start breaking camp. He got up a few minutes later, and it didn't take long to get everything strapped in to various parts of our backpacks.
The hike downhill was made a little treacherous by the large amount of weight strapped to our backpacks, especially since there just didn't seem to be a good way to transport my huge and bulky sleeping bag. The day already promised to be both beautiful and hot.
Our morning quickly turned to frustration as we realized just how long it would take to load up and rearrange the car every morning. It seemed like ages before we got on the road. I was further annoyed by the fact that I had not showered yet. My clothes were drenched with sweat from climbing up and down that hill the day before, and I had a nasty odor of both bugspray and smoke. We had hoped to find a shower soon after we got on the road, but I drove for two hours without finding one. Ben dozed in the back as I became increasingly more agitated. When we finally saw one, we somehow managed to miss the exit, and I became, um, rather emotionally distraught. It was another tense two hours after that before I pulled into an Amoco Family Area and we paid $5 for a room containing a shower, a sink, and a toilet. I washed both my hair and body twice over and felt like a new person by the time I got out. For the record, let it be said that Ben is a dirty boy and was completely unconcerned about the lack of showering, except on my behalf after I threw a fit.
We set up our camp stove on a picnic table outside the Amoco and made some freeze-dried burgundy beef for lunch. Ben didn't like it much, so I ate a lot of his portion too. Then we got back on the road, with Ben driving and me sleeping. This went quite smoothly until I was rudely awakened by our huge plastic jug of pretzels falling on my head. This led to me cursing the car, the trip, and my own bad luck.
What can I say, folks? I really like to be clean. I was clearly not a joy to travel with during the early stages of this trip. I'm probably lucky that Ben didn't leave me in a ditch by the roadside, and even luckier that he still married me after this experience. I can't tell you how many times I winced while transcribing this journal entry and told my younger self to chill out. In my own defense, I had only been tent camping once before in my life, and that was the kind that I did for one night with a whole bunch of friends, our cars, a grill, and some loud cd players. So why Ben and I thought we could tough it out for an entire summer without a warm-up weekend or something is beyond me.... but when we set off for our three months of adventure, I was not terribly well prepared for the realities of "roughing it." Forgive me for my whininess as I adjust; I truly do consider this trip to be one of the very best experiences of my entire life.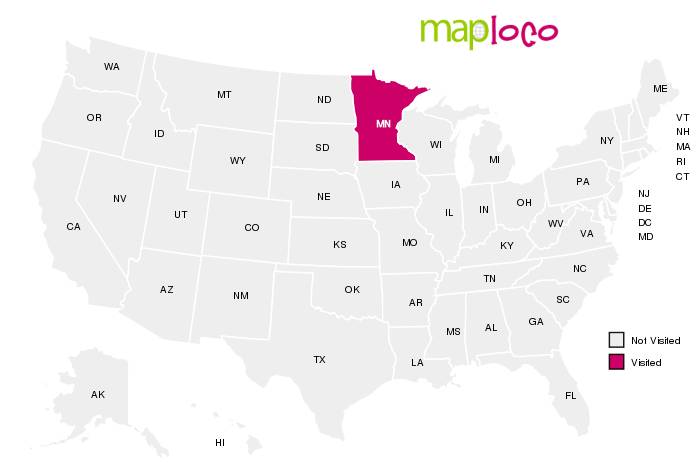 Create Your Own Visited States Map