Continuing my transcription of our the cross-country saga that Ben and I shared 11 years ago....
Day 8--Sunday, June 15, 2003
As the miles flew by, we both called our dads for Father's Day. I worked on this journal and read my book, and Ben listened to talk radio, a habit I think I will never understand! Ben began taking random exits off the Interstate in order to break the monotony of the drive. For one, we stopped at a store full of random old stuff and got 10 cent Dixie cups of Pepsi. Later, we pulled off in a "ghost town," Okaton, which has a population of 10. We admired the view, made our own bracelet and belt buckle with polished rocks, and chatted for a while with the old man who ran the tourist store. Ben also made us pull off so I could take a picture of him astride a giant statue of a jackalope!
We pulled into the Circle 10 campground near Interior, South Dakota, around dusk. This site proved to be far less beautiful than the one the night before. It was basically a field divided into various plots, each containing a picnic table. For some reason, the night seemed to drag on. We did our laundry and cooked dinner, and Ben went for a dip in the pool. We fussed with the contents and organization of the car. It was way too late (by my standards) by the time we got into bed. (Is it still called bed if it's really a sleeping bag on top of a Thermarest mattress?)
This was just the first day we spent in South Dakota. More to come....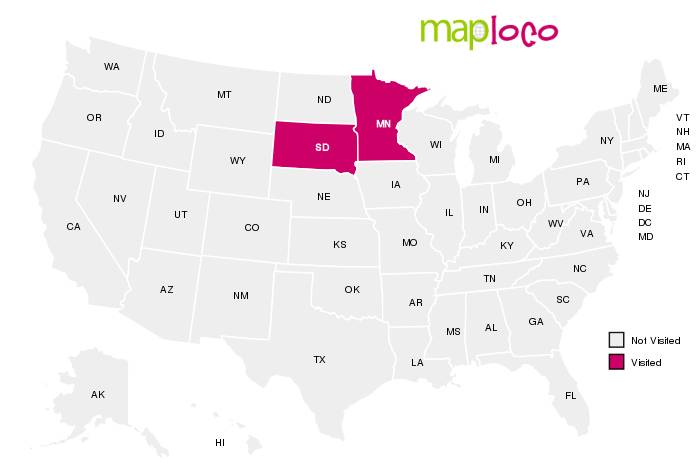 Create Your Own Visited States Map