A continuation of the cross-country adventure I shared with Ben in the summer of 2003....
Day 9--Monday, June 16, 2003
My alarm randomly decided to go off at 6:15. Ben grunted and fell promptly fell back asleep, and I laid there for about 45 minutes before giving up on sleep, rudely reawakening him, and crawling out of the tent to go shower.
By the time I got out of the shower, the sky was dark and ominous thunder filled the air. While Ben showered, I became increasingly annoyed with myself because I knew that it was imperative that we break camp quickly, before all our stuff got soaked, yet I was to weak to lift the heavy bins and too short to pack the cartop carrier. We had some stressful moments after Ben's return while we rushed to get packed up, but we made it, pulling out of the campsite just as the fat raindrops began to fall.
Our campsite was just up the road from the entrance to the Badlands National Park. We purchased a $50 National Parks Pass, which will get us into all National Parks for free for the rest of the summer, and the ranger on duty assured us that the rain would soon pass.
As we stopped at the Big Badlands lookout point, just inside the entrance to the park, I have to admit that I doubted his word. The Badlands hills stretched as far as I could see, and the sky behind them was as slate gray as the slopes themselves. When we got out of the car to go take pictures, the gray matter stuck to Ben's shoes and nearly pulled his sandals off!
But sure enough, before we pulled into the parking lot by the hiking trails just up the road, the rain had stopped and the sun was promising a beautiful and temperate day. We decided to do the Notch Trail, so we loaded up Ben's backpack with his camera, a water bottle, and our rain jackets, and off we went!
The Notch Trail was gorgeous. We kept stopping to touch the huge hills that crested on either side of the hill, amazed at their texture. At first glance, they looked like rock, but upon closer inspection, they looked more like mud! (Later, at the Visitor's Center, we learned they were actually shale, clay, limestone, and sandstone.)
Ben was especially impressed by the red and green streaks that ran through the hills due to minerals in the clay. I liked the sparse vegetation, mostly because I was so amazed that anything could grow in a place like that!
At one point in the trail, we had to climb a rope and wood ladder to get to the higher cliffs. The Notch Trail concluded with a stunning overlook of the Badlands and other "nature" trails below us.
Ben and I then decided to be adventurous, so we departed from the trail and explored the hills on our own. We found an even higher and even more impressive overlook, and we saw two golden eagles flying below us. What an experience!
After we managed to find Notch Trail again and navigate our way back, we went to the Visitor's Center so Ben could get a National Parks stamp in his leather-bound book and so we could pick up the requisite postcards. We then went to a little diner on the park grounds and split a buffalo burger. It tasted much like regular beef to us, except a little tougher.
We didn't do any more trails, but we did enjoy the scenic views on our slow, meandering way out of the park.
We stopped at a "prairie dog town" and I attempted to make friends with the cute little critters. I was amazed at how close we could get to them before they popped down their holes! They seemed to be everywhere, standing up on their hind legs and talking to each other, making little cheeping noises like birds.
We wandered far out into the field because there were buffalo in the distance and Ben wanted to go "play with them." Thanks to this excursion, we learned that buffalo produce huge circular patties of poop, which were scattered all over the field.
After we officially left the Badlands, we took a gravel road for about 20 miles before it connected to a major road again. Our next stop after the Badlands was the town of Wall. We had been seeing signs for Wall Drug for the last 400 miles so we wanted to see what all the fuss was about. The town of Wall has a population of 800, and there were probably more people than that at Wall Drug! This store is definitely the lifeblood of the town, which is pretty laughable, considering that it spans several blocks, yet contains nothing which would actually be useful to buy. Ben and I were pretty appalled at the huge number of tourists there, especially after the wide open spaces of the Badlands, so we made a pretty hasty retreat. (But not before taking Ben's picture on a jackalope. If a jackalope is available, Ben HAS to have his picture taken on it.)
South Dakota is beautiful countryside through and through. After exiting the Badlands, we traveled for a while through the plains, and then the scenery turned to the Black Hills. They, too, were gorgeous. We camped at the Pactola Resovoir in the Black Hills. There was no running water and there were only pit toilets, but it was still a nice campsite. After we set up camp and had a big pot of rice for dinner, Ben took off for a Frisbee golf course we had seen along the road to the campsite and I stayed behind, reading Silverthorn. All in all, it was a nice, peaceful, quiet evening with a relatively early bedtime.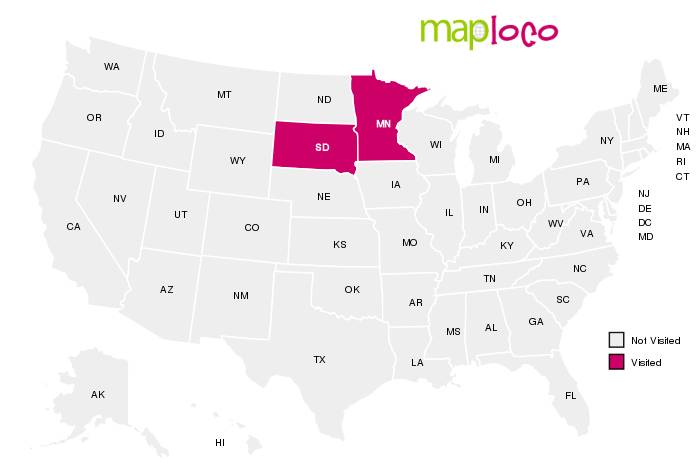 Create Your Own Visited States Map