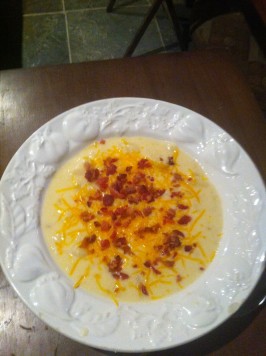 I have always loved Loaded Baked Potato Soup and frequently ordered it at restaurants. Since going corn-free, though, most restaurant versions and grocery store versions are off-limits to me because of the presence of corn starch. So when my friend Carrie shared on Facebook that she had discovered an amazing crockpot version that was better than any restaurant, I gazed at her pictures longingly and then clicked over to the recipe. And--wonder of all wonders!--the ingredients were all things that I could have and it was totally simple to make. And, as Carrie had promised, it is totally delicious. I am totally hooked.
The recipe is published by the people at
Food.com
and you can find it in its entirety
here
. Here's my cookbook version, with full credit given to the original authors.
Total Time: 5 hours 15 minutes
Prep Time: 15 minutes
Cook Time: 5 hours
Serves: 6-8
Ingredients:
6-8 large baking potatoes, peeled, cut in 1/2 inch cubes
1 large onion, chopped
1 quart chicken broth
3 garlic cloves, minced or pressed
1/4 cup butter
2 1/2 teaspoons salt
1 teaspoon pepper
1 cup cream or 1 cup half-and-half
1 cup shredded sharp cheddar cheese
3 tablespoons chopped fresh chives
1 cup sour cream
8 slices bacon, sliced and crumbled
cheese, for sprinkling
Directions:
Combine the first seven ingredients in a large crock pot. Cover and cook on HIGH for 4 hours or LOW for 8 hours (potato should be tender).
Mash mixture until potatoes are coarsely chopped and soup is slightly thickened.
Stir in cream, cheese, and chives.
Top with sour cream (if used), sprinkle with bacon and more cheese.
A couple of notes from my experience:
Carrie very wisely added about a half a cup extra of sour cream and an entire extra cup of cheese to her mixture, so I followed her lead and found it to be perfection.
Also, I went a little crazy with my potato chopping. I complained to Carrie about how long it took to cut up all those potatoes. She kind of shrugged and said, "Oh, I left mine a little on the big size, I didn't really notice." And when it came time to "mash my mixture," I discovered that she was definitely right. Because I had cut mine so small that I really couldn't mash them much smaller. So that was doubly frustrating. I will know better for next time.
And while this recipe says that it serves 6-8, I felt like we got more than that out of it. Maybe that's just because our kids' portions were so minuscule. But I felt like I ate this soup for days and days (it reheats beautifully). Maybe that's because I used all 8 potatoes. But it's definitely on the large side. Happy eating!