3. Visit 40 states and tell the stories of something I did in each.
I started my "work" toward this goal by delving back into my old journals of the epic cross-country road trip that Ben and I took once-upon-a-time in the summer of 2003 and recounting those adventures. At some point, I will finish telling those stories, because they AWESOME and need to be shared. But in the meantime, I'll share what I've done this year.
My first out-of-state travel in 2015 was in January. I just went to Illinois, which, in itself, was not notable. I grew up in Illinois and go there several times every year to visit my family. So obviously, Illinois was not a new destination. But my trip in January was AMAZING because it was to the American Library Association Midwinter Conference. This was my first-ever professional conference, and it was hands-down the most incredible experience of my professional life. Ever.
The conference was an incredible mix of meeting other library professionals, sitting in training sessions, picking up tons and tons of free goodies from vendors, and meeting famous authors that had me swooning. I had a mile-wide grin on my face the entire time. I left that conference 100% convinced that I was in the right field for the first time in my life.
And as an added bonus, I even got to catch up with two dear friends from high school, one of my former students (who is now a fully grown adult, working at the convention center where the event was held), AND my old boss from MUTPL (public library) while I was in Chicago!
The only downside: driving through the largest blizzard ever recorded in Chicago history. What can I say? I'll do crazy things for books!
Here's just a few of the trip highlights:
So that brings my not-yet-totaled state total to four thus far recorded on this blog.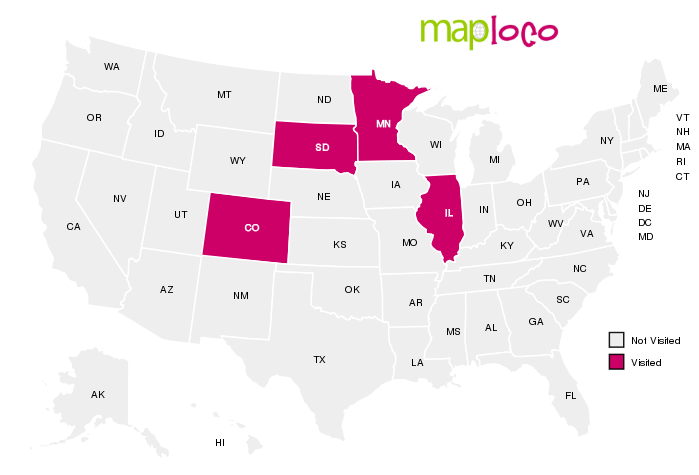 Create Your Own Visited States Map