A continuation of the cross-country adventure I shared with Ben in the summer of 2003....
Day 10--Tuesday, June 17, 2003
After we broke camp, we had to drive to a small store located on the camp grounds in order to shower. I felt very hard-core during this experience, seeing as how the two middle-aged women sharing the bathroom with me were both curling their hair!
Our first destination of the morning was Mt. Rushmore, which was less than an hour away. Let's Go had warned us that parking was overpriced and suggested that we use remote parking instead. We thought his was a great idea, until we got close to the memorial and realized there was no such thing.... So we decided just to enjoy the view from the road instead! I must admit that it was a pretty impressive sight to be driving along in the mountains, then to suddenly round a corner and be confronted with four elegantly carved faces staring out over the distance. We were totally unprepared for the sight and absolutely awed by it. Not awed enough to stop and pay for it though!
We continued slowly on the road past and around the memorial, gawking at every turn. When we reached the back of the cliff, I thought it was safe to turn my attention fully back to the road. Almost immediately, I was confronted by several parked cars and people on the road with cameras. I turned to look back at the cliff face to figure out what they were looking at and found myself face-to-face with three mountain goats standing on the side of the road! Ben grabbed his camera, and we managed to get some good shots of them.
Our next stop (or drive-by, as the case may be) of the morning was the Crazy Horse Memorial. Ben's dad had recommended that we see it, and it was also conveniently located on the road we were taking anyway. Whereas Mt. Rushmore was built by a team of sculptors working for 20 years, Crazy Horse has been the 50-year project of one man. The plans look like it will be impressive when it's done, but for the time being, only his face is done. The park tried to charge us $20 admission, and we figured that if we hadn't paid for Mt. Rushmore, we certainly didn't need to pay for this, so we took another picture from the road and continued on our merry way.
The next quick stop was the Wind Cave National Park. It looked interesting, but tours were both long and expensive, so Ben got a stamp in his book, and we were on the road again. To quote Ben, "Three janky memorials in one janky morning."
We did have some good conversations to pass the time, such as a discussion of the pros, cons, rewards, and dangers of the teaching profession, as well as what Ben might want to do with his life. And it's a good thing that we had things to talk about, because we had a LONG drive ahead of us!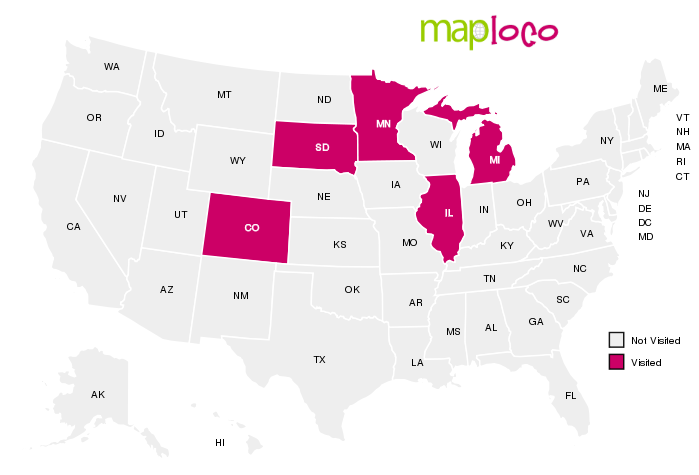 Create Your Own Visited States Map